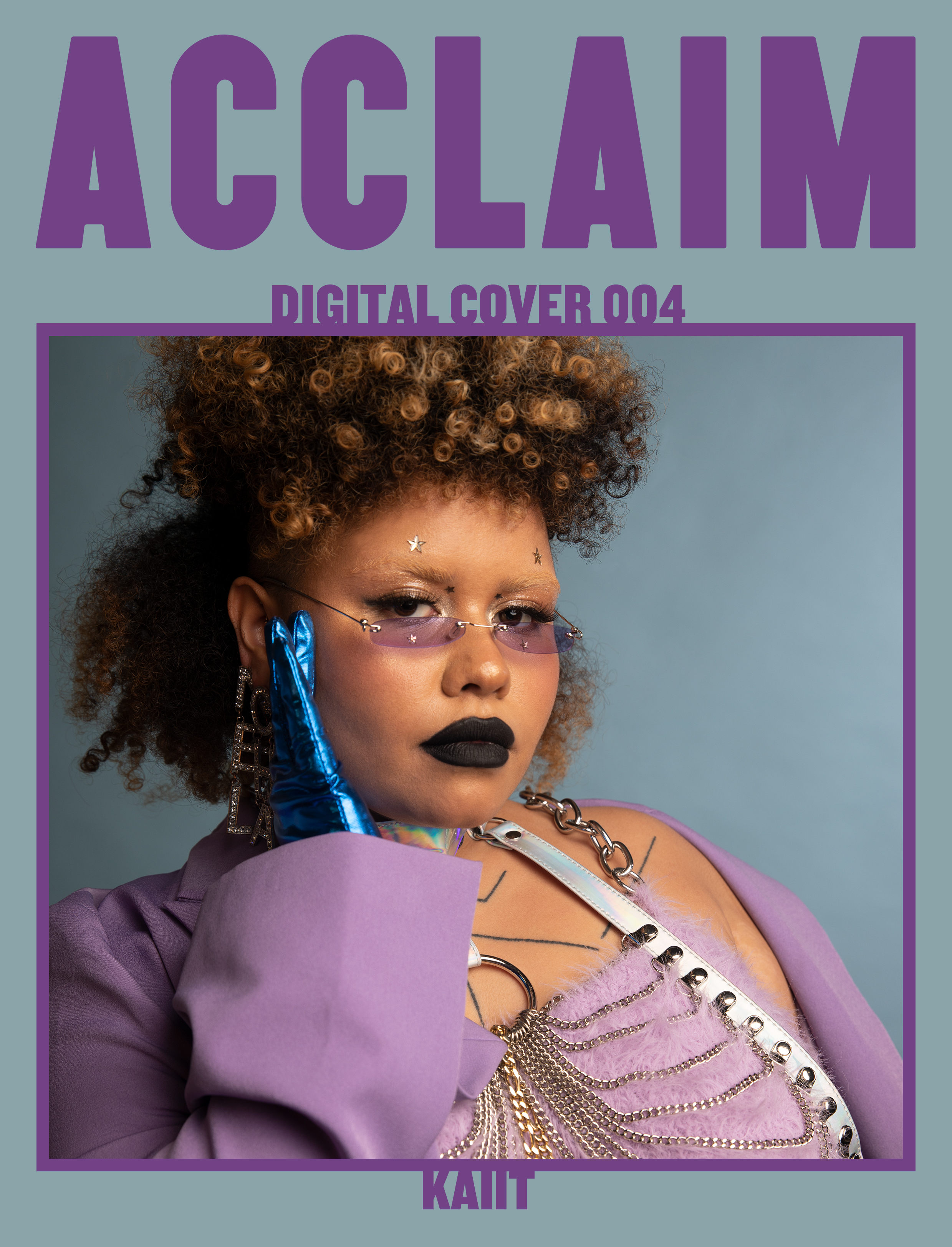 WORDS: FETLE WONDIMU


Few people inhabit a space the way that Melbourne singer-songwriter Kaiit does. The day of our interview, I meet her at the Acclaim studio, and despite the cavernous size of the room, her hearty laugh easily pierces through the booming Kali Uchis track that's playing. She's wearing an outfit freshly picked by stylist Ntombi Moyo, someone who can be trusted to bring to life Kaiit's luminous energy. Ntombi's selections range from intergalactic chic to lush vintage—it's an eclectic and vibrant medley that mirrors Kaiit's own taste in music and fashion. Watching the pair weave between clothing racks adorned with fur coats, leopard print, and the occasional glimmer of metallic, they seem like the perfect aesthetic match. After the shoot, we get to chatting, and over the course of an hour, we explore her upbringing in Papua New Guinea, the power of manifestation, and the importance of self-love. Kaiit's enthusiasm and self-belief is undeniably infectious. I left our interview certain that if Kaiit puts her mind to something, she's going to make it happen—all on her own terms and in her own time.




I read that your parents like Pink Floyd and that you collect vinyl. What other artists did you grow up listening to at home?
Michael Franti, my mum loves listening to him so we definitely were listening to that. Morrissey, The Smiths, she listens to so much shit, it's funny because she is just like me, we just get comfortable on tracks and artists and just play the hell out of it. I feel like my uncle played a very big rolen my music, as well. He gave me my first Lauryn Hill CD [The Miseducation of Lauryn Hill] that was like, the start of it. Oh, and Amy [Winehouse] always. All that music always gives me company. A lot of the music that my mum was listening to, especially like Morrissey and The Smiths...
Who do you listen to to uplift you in the way that 'Miss Shiney' uplifts people?
I think the one song that I love listening to is 'Help Yourself' by Amy Winehouse. Ooh, big surprise. I love the track because it kinda just reminds me—especially when… people's energies and emotions are reflecting onto me—that sometimes it has nothing to do with me. So the chorus goes, "I can't help you if you don't help yourself." It's like sometimes you just have to remove yourself from certain situations, it can be hard if you know that person or you feel some type of way about that person… of course reflect on yourself but if you are not the problem don't put too much on yourself or tire yourself out, because that shit tires you out…
Are there any specific things that you learnt about growing up, from your family or Papua New Guinean culture that you look back at now and think damn that actually helped me?
I think one thing that I learnt a lot was how beautiful culture is… growing up in my area, around Glen Waverly, there wasn't much culture, there is a huge Asian community, like Chinese New Year and all of that gets celebrated and Survival Day definitely gets celebrated as Australia Day out there. Yeah, I just realised how important culture is and how embarrassed I used to be about that shit and just because I didn't see it so I'm like, "This is weird and whack and I don't want to do this. Speaking another language? Like nah, I just sound... nah."
One thing that definitely helped that was doing Papua New Guinea (PNG) dances like cultural dance group[s] that the PNG community would put together. Even though I was a little embarrassed when doing it, at that moment doing that I'm thankful that my family taught me and keeps telling me about my culture and I'm lucky to be in it and it's super special and I love where I come from. Like, culture is so important and usually the people that be trying you are the ones whose culture is like, The Reject Shop and McDonalds.
Apparently you wrote 'Miss Shiney' on your travels back to PNG. How was it travelling back to the homeland older and more conscious?
Wild man, it was 13 years since I've been back and my father lives there as well. It was intense going back, not only seeing him but people that I haven't seen in years that I grew up with and went to school with and it was just wild seeing this memory that was in my head of what it looked like when I was growing up and coming back and seeing what it was now. It was really trippy and it was so beautiful and yeah, wild.
My childhood home was there and it is all derelict and broken down, but it was really beautiful and special. I had no internet, no nothing so I couldn't contact anyone even if I wanted to, so that was a really helpful part in creating because… when I'm writing shit I'm like, "Yo this is fire but is this fire? Is this fire?" Then I would send [it] to the homies like, "Yo what you think?" But I didn't have that, so it was nice… just having it to myself and working on it, and then coming back I thought it was cute but a little embarrassing because of the words and how real I was, but I'm thankful that she's out and heard.
Is your creative process more militant or more go with the flow?
Most of the time I write by myself. I can get funny, especially with people that I don't know and I'm meant to be in the studio with making music. I sometimes feel funny and overthink, like what do they think about these words that I've just written? I just overthink it and not trust myself, which is not cute really, so I'm doing less of that!
Do you set aside full days to create?
I mean I can try and do that! Sometimes I just won't feel that, I could just be writing for a little then be like, "Meh I'm done with that". Of course I will push myself to work hard but I will never push to force something, leave that for the toilet. [Laughs] Being truthful with myself and writing for myself, my songs are reminders for me of these things that I've learnt and I'm not trying to relearn again, it's nice to listen to my songs every now and again or just read the lyrics and be like, "Yep."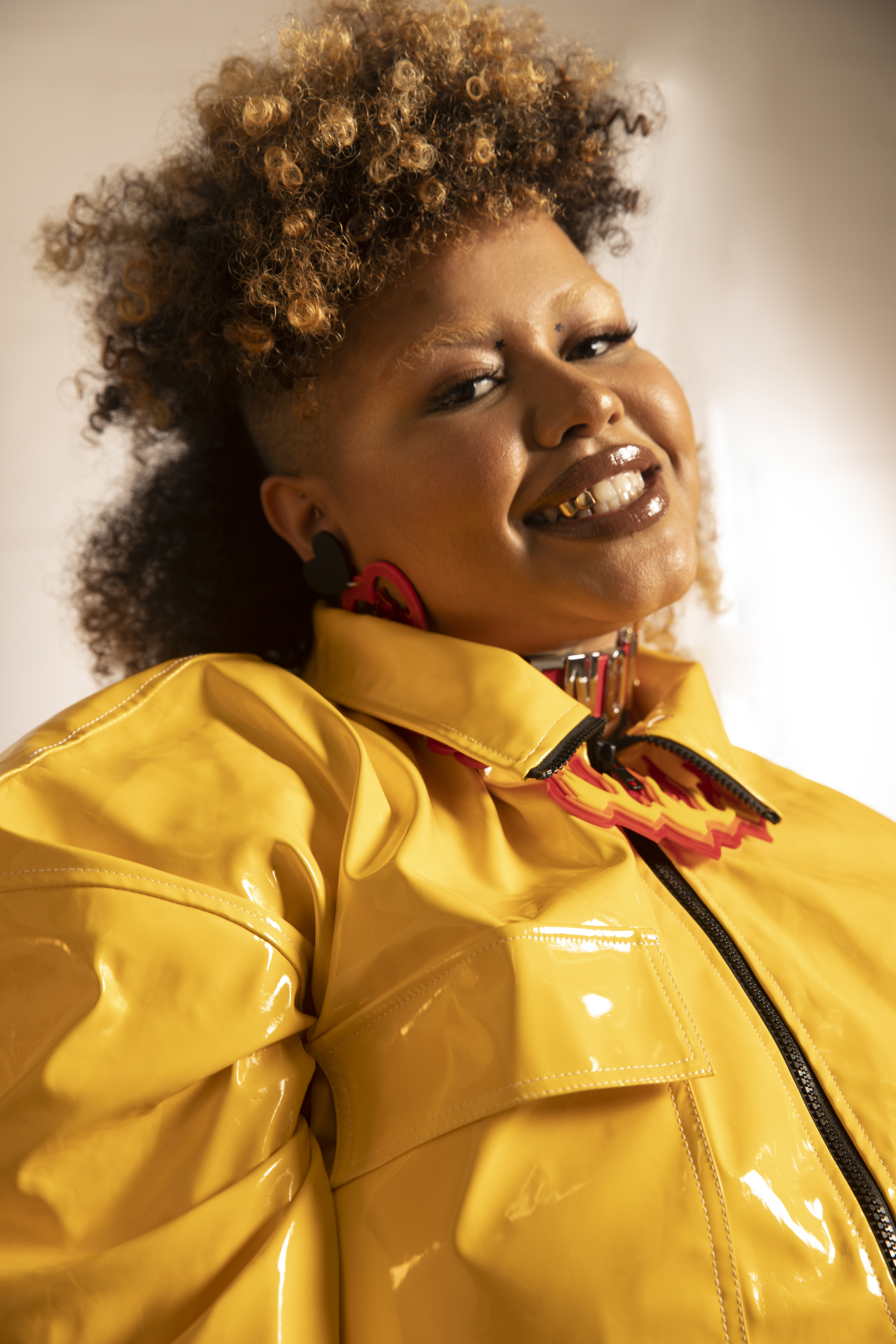 When you were younger you spent some time at an art school that your parents taught at in PNG. How did growing up in an artistic household work? Did that nurture creativity for you?
Yeah, I mean I was always allowed to express myself freely and there were always materials and things around that I could do. It wasn't looked down upon. I feel like a lot of my friends and their parents are from a background that doesn't really approve or see art as a job. I'm only realising this now, but seeing my parents working as artists and getting money as artists—that's really cool… I always had free space to do whatever. My dad, however, did not want me to do music. He loved me singing, but he was like, "I don't want you to struggle like we did. Art isn't the thing, be a lawyer, don't be an artist."
I was like, "ALRIGHT BET." So for ages I was super lost, especially in high school, that's why I left, because art wasn't taken seriously as a job and even when I was talking to my teachers about my career path I was already a bit ashamed that I was like, "Yeah, I like to sing" and they were like, "That's cute, but… what do you really want to do with your life?" And I wasn't really supported like other kids… and I don't really feel like I needed that anyway. But I'm thankful that I left.
Was that around the time that you found the music mentoring program Dig Deep?
My father actually introduced me to that. He said it was a hip-hop choir and I think he was confused because he was working at Footscray Art Centre and they had a huge hip-hop choir there. But yeah, they had this program running at the art centre. Man, even that! Getting changed at Glen Waverley Station out of my school uniform and I could be whoever I wanted to be and just go in there and create for a couple of hours. I think I was 16 or 15.
It was cool because I was a bit over school by the end of it so, I felt I had to follow people around [and] just be who I wasn't. It was cool leaving that because there were some people that I didn't even want to hang out with but I was because I didn't want to be alone, because nobody wants that.
After I left school I went to TAFE, and finished my year 11 and 12 equivalent and that was chill. I was still keeping busy and I was studying hair, beauty, and makeup, and fashion, and a little bit of tourism as well. Being at school and them not seeing singing as a thing, made me not take it seriously for a while, so I was trying other things that I really enjoyed like, "Ooh, I could be a makeup artist" you know? Or thinking of other things that I could do with my life and I liked doing those things but I get so much joy out of making music, it's mad therapeutic, like writing what you are feeling even if you are not singing or whatever, or even if it doesn't rhyme, just writing.
When did you start to take it seriously? When was the moment?
MzRizk, who is a Melbourne-based DJ was putting on weekly curated events called Gallery at Ferdydurke [bar]. I had no music out and I was just able to go out to this bar and she was getting me up there like every week, every second week singing [and] performing stuff I hadn't performed and just practicing. She said just view this as a rehearsal, like mess up do whatever and it was a one-year anniversary and this place was tiny!
I remember I got onto the stage—and this whole place was packed. I had no music out at this point—and people were singing my lyrics. The only way that could be was if people were coming to the shows, and that tripped me out. After that show I went off and was like "She about to be broke, my dad about to be mad." But I didn't give a fuck! I was so happy, I was ecstatic. I don't even remember the show, all I remember was seeing that and my thoughts after. The universe is constantly reminding me of that and keeping me on the path I need to be.
Do you feel flow on stage? You seem really comfortable, or are you good at holding back your nerves?
I'm here for a reason. I will never tell myself I don't deserve good things and people aren't there for me. Especially if it's my own show, they are here for me and wanna hear my music and it's okay. People that come to my shows are so lovely… it's wild how much the people that come through are reflections of me. I love seeing people at shows because for the most part you are behind your phone…. like also trying not to be too into what people are thinking as well. Just reaffirming myself. I don't always have those days though, sometimes my mind can be too powerful for what I want it to be thinking, but I love performing. It's not cute when I start puffing out though. [Laughs]


Do you have any manifestation rituals or spiritual things you do that have helped you along the way?
Whether or not you think it's going to happen, believe in it and speak of it as if it is happening. It's so wild! Something as simple as clothes. I'm always manifesting shit I want to find at the op shop or Savers and it's crazy how [the] exact thing I wanted I've found. It happens all the time. Believing in it, believing in your words—listen to your thoughts.
I don't realise that sometimes my thoughts are already putting a bad energy into a situation. So just speak positively about yourself and about whatever you want to happen. Know that you need to work for shit too and be loving and do what you can to help others too. I believe a lot in karma… another thing is writing things down. Keeping things on walls or on your phone screensaver.
Even just reading something that's positive [as] the first thing that you read. You get used to your screensaver, you'll process it even if your mind might not. Keep good people around you that believe in you and are manifesting for you too! And a whole lot of sage. [Laughs] It just smells bomb. And the feeling of the smoke as well, even if you are putting it over your face, if you're just like closing your eyes with positive thoughts manifesting.
So what is your relationship to social media and how do you manage that in your life?
I'm not gonna lie and say I'm never on my phone. I'm on it a lot. Sometimes I'm not wanting to be on it and it gives me mad anxiety.I'm so thankful for comments likes and loves but sometimes I get way too fixated on that shit. It can mess you up if you were to post something then post something the next day and you don't get as many likes, you think maybe this photo isn't that cute and I should delete it later, Sometimes weird thoughts can go into your head from something as simple as how many people are liking your photos. I need to take—and I do take—time away from it.
Sometimes you feel the urge to go on it and see what other people are doing and you're constantly being fed by other people's lives or whatever they are giving you, which you be viewing like, "Their lives are so bomb" but it's probably not that good. So reminding [yourself] that everyone's going through it and that's okay, but don't be relying on Instagram shit to make you feel better because it will not.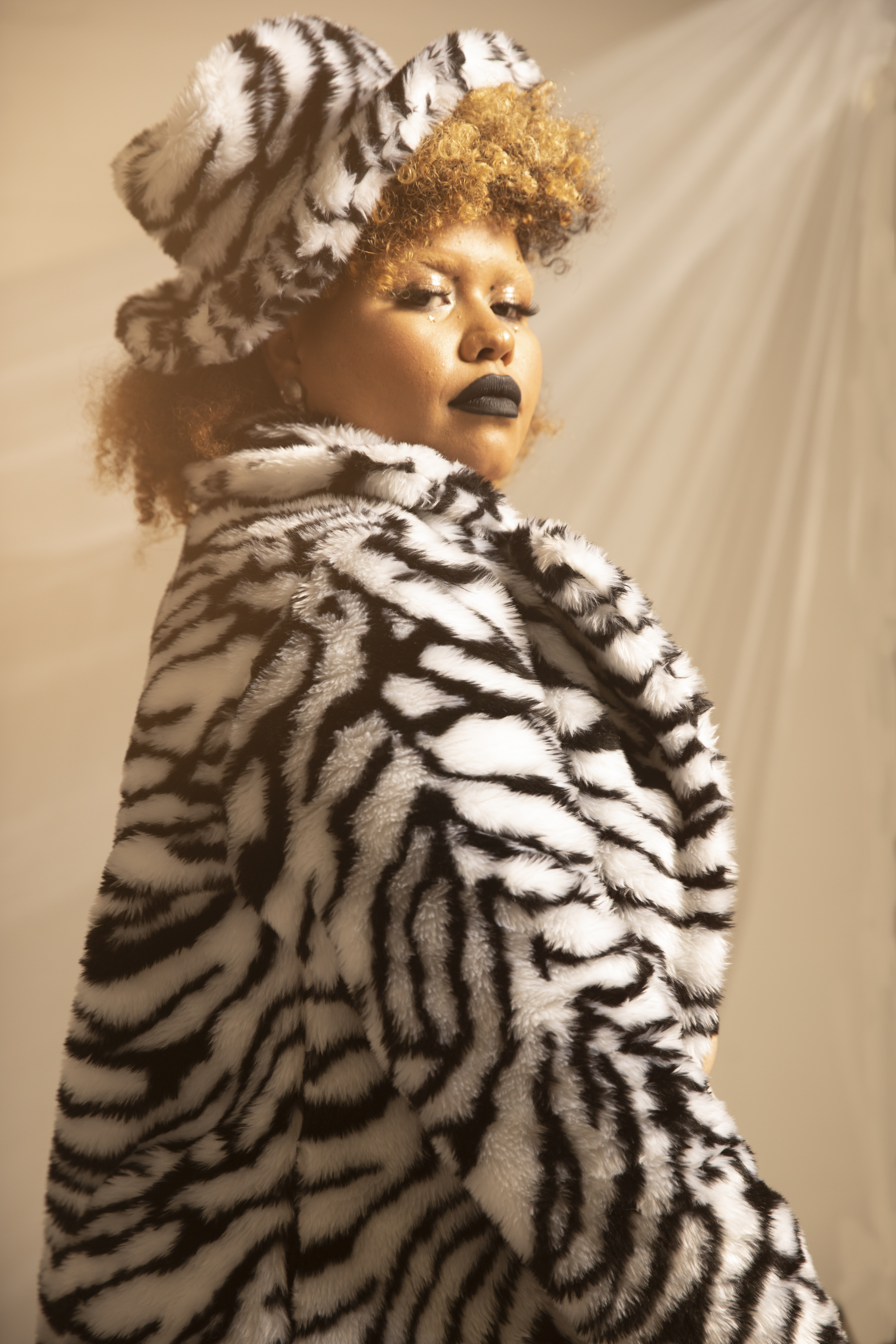 You're back from overseas, how are you feeling?
It feels like I'm repping and it makes me so happy. It's more than just Australia that I feel like I'm representing and I'm thankful that I can be that.
How were the crowds and the cities you visited? Any standouts?
In the States we only did one show [and] that was a festival, but the European shows was a whole tour. London was a Melbourne show vibe, they were just crazy. It sold out which was absolutely wild and people kept asking, so we did another show and that sold out too. It was just affirming. All of those things were really affirming, like meeting people, relating. It's so wild because I feel like… I hide shit here and there, but I'm straight to the point with my writing and like people of any age can relate to that, any background.
Who did you meet that left a big impression on you?
It's funny because I never want to be in someone's way and I always feel like I'm in someone's way. I don't want to annoy people if they want to just be by themselves so I'm always super conscious of that and it stops me from going up to people. I think it was just really cool seeing other artists out there doing their thing… it was cool seeing Smino in the studio as well. We were working in the same spot and there were ashtrays in every room so you know the vibe's already set. [Laughs]
What advice would you give to people wanting to do music?
Trust your process. Trust yourself. If you get real enjoyment out of doing this and it's purely for the art and the love of creation, go ahead. Or [if] you're creating conversation, purpose. You don't have to be that kind of artist of course but... it's not as easy as just going up on stage. There is definitely a process to it and if you are down for the process and down to work hard and cry and stress out… it can all be a bit messy and also alcohol. [Laughs]
There is a lot of alcohol involved in the industry… you get free drinks at every show and if you're having a show every night? Every second night? It can be a lot and that's when problems can really happen so just look after yourself while you are on tour, that's facts. I'm definitely still learning that but yeah, facts.
What are you looking forward to in the next couple of years?
I'm looking forward to [the fact that] more people that need to listen to my music are able to find it and it will find them. I'd love to do a track with Tyler [,The Creator], SZA, Rhapsody, The Internet, Tierra Whack. I just want to be free with myself and that will make things like that much easier. I want to travel more. See the people that I love thrive, my family too, I only see beautiful things for all of them. Honestly, I just want people to be doing what they love.


This interview has been edited for length and clarity.